Contents
• Introduction
• Economic highlights
• Stimulus package
• Business Tax
• Indirect Taxes
• Stamp Duty & Capital gains
Introduction
In 2020, the COVID-19 pandemic brought about unprecedented strains to the global economy. The effect of this shock distinguishes itself from previous crises as the declines in demand are accompanied by supply restrictions resulting from the mandatory burden of various lockdowns. Despite efforts by international institutions and Governments, the economic situation going forward is overshadowed with uncertainty with respect to both the duration of the virus outbreak as well as its rate of transmission.
The Maltese economy is expected to be impacted negatively in 2020. Nevertheless, the economic fall in output is expected to be fully recovered in 2021 as the Maltese economy is expected to return to positive growth.
The 2021 budget is part of this recovery plan and all the incentives are being tailored to achieve the aim of having a speedy recovery of all our economic sectors.
Economic Highlights
The outlook for 2021 is subject to a high degree of uncertainty and is highly dependent on the economic recovery in Malta's trading partners, the perseverance of supply disruptions due to the severity of the shock as well as the speed at which the confidence and behaviour of domestic consumers and firms will return to normality. The baseline projection accounts for gradual continuation of economic activity from the third quarter of 2020, and a recovery in
2021.
Indeed, the Maltese economy is expected to resume its positive performance and grow by 4.3 per cent in real terms in 2021.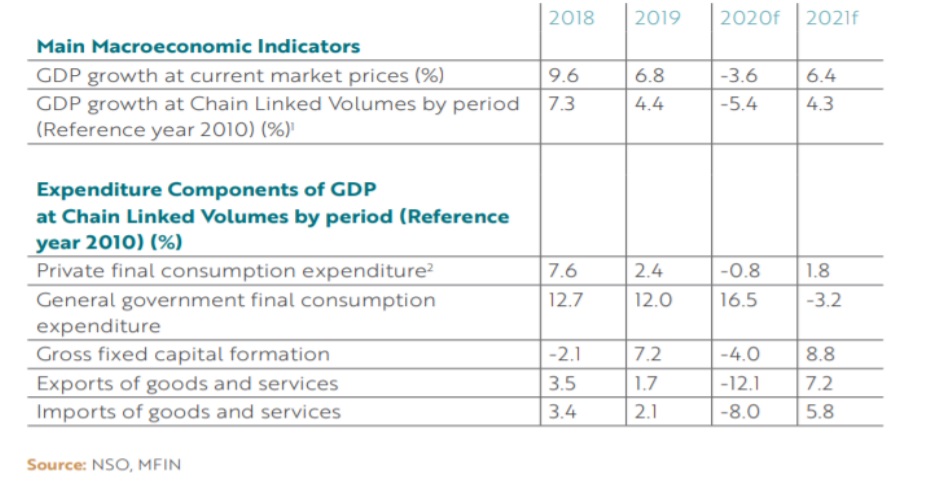 Stimulus Package
• Cost of living adjustment
The cost of living increase for 2021 will be €1.75 per week, compared to €3.49 last year. Similar to previous budgets, employees will be receiving an additional day of vacation leave.
• Tax refund
The tax refund which was provided in the past three years will also be provided in 2021. The refund will be between €45 and €95, with the highest value provided to the lower income earners.
• Government vouchers
The new € 100 vouchers will be introduced in January 2021. The vouchers will consist of € 60 against accommodation, hotels and restaurants, and the remaining € 40 vouchers will be redeemed in retail or service outlets.
• Children's allowance
Where the income of the family does not exceed € 25,318 per annum, the rate of this supplement shall be € 70 per annum per child. On the other hand, for the rest of the families where the income exceeds this amount, the supplement will be € 50 per year per child.
• Increase in Pensions
In addition to the COLA increase, pensioners will be given an additional increase of € 3.25 per week, resulting in a combined cost of living increase of € 5 per week.
• Pension tax relief
The maximum pension income threshold will be raised to € 14,058. This will avoid such income from being taxed next year.
Business Tax
• Covid-19 Wage Supplement scheme to continue
The supplement will be extended to March 2021. Now that the government has more information on how this measure is being implemented, it is in a position to modify it to assist sectors which need financial aid more than others. This measure will cost around €40 million every month.
• Innovation scheme
Malta Enterprise will be issuing a new scheme aiding companies that employ less than 50 people specialising in innovative projects.
The scheme will be open for a defined period of one year and covering up to 50 per cent up to a maximum of €200,000 per company. Collaboration with local & international research institutions leads to an increase of €35,000 in the aid granted.
• Existing and innovative schemes to be provided by Malta Enterprise
Malta Enterprise is going continue to extend, strengthen, and launch schemes, to help both the economic sectors that are already operating within our country as well attract new investment.
Among these schemes one mentions Micro Invest; the Business Development and Continuity Scheme; the Research & Development 2020 Scheme; R&D Feasibility Study Scheme and the Business Start scheme.
• Agriculture and fisheries
With regard to agriculture and fisheries, farmers and fisherman will be given government grants equivalent to what they pay in tax on sales at the vegetable and fish markets.
• Voluntary organisations
From next year, voluntary organisations, which are registered as such and are following what is stipulated in the law governing those same organisations, will be exempted from paying tax on any profit they make during the year, if their annual income does not exceed € 50,000.
At the same time, we will be seeing that voluntary organisations are transparent about the donations they receive  and how these donations are spent in order to ensure the maintenance of the trust that the Maltese and Gozitan public has in these organisations.
Indirect Taxes
• VAT exempt business threshold
The tax-free threshold for VAT-exempt businesses is being raised from the current €20,000 to €30,000.
• VAT refund scheme
VAT refund scheme on the purchase of bicycles and e-bikes will be retained as will the scheme for the purchase of electric motorcycles and scooters up to a maximum of €400.
Stamp Duty & Capital gains
• Extension of stamp duty and capital gains tax upon purchase and sale of property
First Time Buyers will be exempt for the first €200,000.
Reduction to 3.5% stamp duty on purchase of family home even if not a first-time buyer and even if inherited.
The reduction of stamp duty from 5% to 1.5% for purchasers and a reduction of tax from 8% to 5% for sellers, with respect to the first € 400,000 of property value is to remain in force. This applies to March 2021 for promise-of-sale agreements and until the end of 2021 for the signing of contracts of sale.
• Donation property tax rebate
The exemption of stamp duty upon a donation of a dwelling property from the parents to children has risen from 200,000 to €250,000. Any amounts over and above will continue to be taxed at 3.5%.
• Assignment of property
The 15% rate of tax applicable on the profit derived from the assignment of a Promise of sale is now to be extended to he full amount.